Prayers for people looking for the right life partner. Are you tired of being alone and seeking the right partner? Have you been searching for the perfect person to share your life with but to no avail? It's time to turn to prayer for guidance in finding your soulmate.
Prayer is a powerful tool that can help you align with your desires and lead you to the right person. With faith and determination, you can use prayer to locate the right partner and enjoy a fulfilling relationship.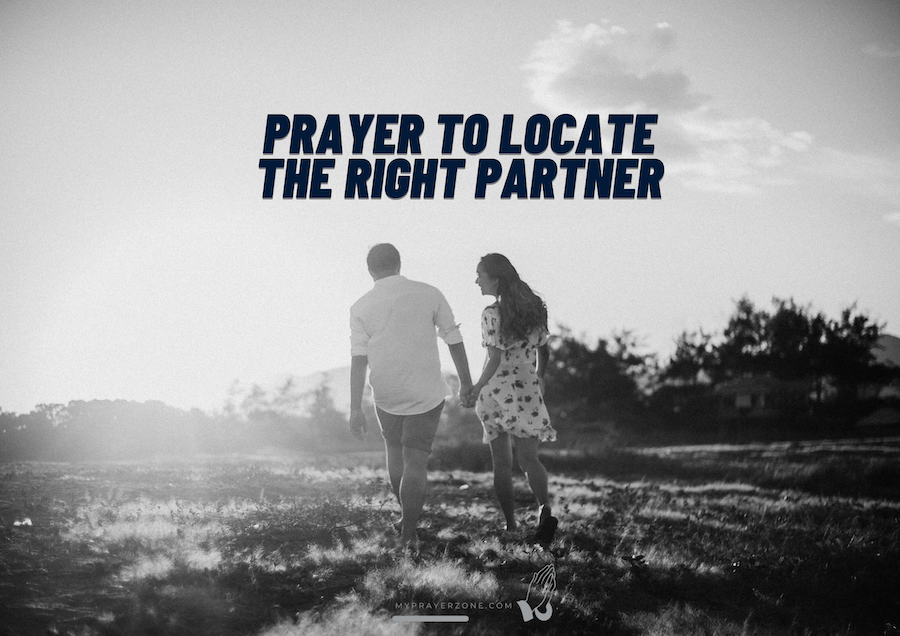 God wants us to walk in His Perfect will for us in marriage but for us to find His Will, we need to pray fervently because Satan can masquerade our marital life and cause us to engage the wrong person. Pray the following prayers with faith and Thanksgiving in your heart unto God.
1. Dear God, I come to you with an open heart and a sincere desire to find my soulmate. I trust that you know what is best for me and that you have someone special in mind for me. Please guide me to the right partner and help me recognize them when they come into my life. Fill me with patience and peace as I wait for your perfect timing. I pray for a love that is kind, honest, and true. A love that brings out the best in me and supports me in all aspects of my life.
2. Father I thank you for your provision of helpmeet for me, thank you for seeing to it that I'll marry well. Isaiah 34:16 Seek and read from the book of the Lord: Not one of these shall be missing; none shall be without her mate. For the mouth of the Lord has commanded, and his Spirit has gathered them.
3. Oh God, I decree that you arrange a hallowed event that will introduce me to my life partner in Jesus name, I'll not make a wrong choice, I'll not be Carried away by human desires in Jesus mighty Name. Proverbs 31:10 An excellent wife who can find? She is far more precious than jewels.
4. Heavenly father as I desire to fulfill your commandment in marriage let your angels go ahead me to find the perfect match for me according to your will in Jesus Name. Psalm 27:14 Wait for the Lord; be strong, and let your heart take courage; wait for the Lord!
5. In my desire to marry let my mind not rule over my spirit, let your holy Spirit take total control as I wait on you in the Name of Jesus.Isaiah 40:31 But they who wait for the Lord shall renew their strength; they shall mount up with wings like eagles; they shall run and not be weary; they shall walk and not faint.
6. Oh father , it is written that the way of man is not in himself, I ask that you order my steps in your word in the name of Jesus.
Jeremiah 33:3 Call to me and I will answer you, and will tell you great and hidden things that you have not known."
7. Every demon of manipulation against my marital destiny be destroyed in the name of Jesus Christ, I release the fire of the Holy Spirit upon you in the Name of Jesus Christ. Ephesians 6:12 For we do not wrestle against flesh and blood, but against principalities, against powers, against the rulers of the darkness of this age, against spiritual hosts of wickedness in the heavenly places.
8. Oh Lord I ask that you please hear my plea and show me mercy in the area of marriage in the mighty name of Jesus Christ. Matthew 7:7 "Ask, and it will be given to you; seek, and you will find; knock, and it will be opened to you."
9. Oh Lord let every evil seed I have sown in my past relationships that may be hindering me from getting the right partner be destroyed now in your mercy in the mighty name of Jesus Christ. Isaiah 62:4 You shall no more be termed Forsaken, and your land shall no more be termed Desolate, but you shall be called My Delight Is in Her, and your land Married; for the Lord delights in you, and your land shall be married.
Recommended: Prayer Points for Personal Growth
10. Father please do not let this year pass without blessing me with a life partner in the mighty name of Jesus Christ. Ecclesiastes 3:1 To every thing there is a season, and a time to every purpose under the heaven:
11. Oh Lord I reject every spirit of confusion in making marital decisions in the mighty name of Jesus Christ. 1 Corinthians 14:33 For God is not a God of disorder, but of peaceFor God is not a God of disorder, but of peace—as in all the churches of the saints. ..
12. Every spirit of error assigned against me to make me choose the wrong partner, I command you to catch fire in the mighty name of Jesus Christ. 1 John 4: 6 We are from God, and whoever knows God listens to us; but whoever is not from God does not listen to us. This is how we recognize the Spirit of truth and the spirit of falsehood.
13. I reject every spirit of delay and frustration in my marital journey in the mighty name of Jesus Christ. Every satanic personality assigned against me to cause me reproach in the area of marriage, I command you to die in the mighty name of Jesus Christ. Deuteronomy 1:6 The LORD our God spake unto us in Horeb, saying, Ye have dwelt long enough in this mount.
13.Father I receive the spirit of wisdom and spirit understanding so I can choose the right partner for me in the mighty name of Jesus Christ. James 1:5 If any of you lacks wisdom, he should ask God, who gives generously to all without finding fault, and it will be given to him.
14.Every marine agent assigned to camouflage before me as a child of God so I can marry her, I command you to die by fire in the mighty name of Jesus Christ. I receive the grace to walk in trust in Jesus Name. Psalm 56:3 When I am afraid, I put my trust in You.
15. King of mercies, I ask that you show me mercy in any way that I've chosen my own plans over yours, I ask that you redirect my step in the journey of locating my life partner in Jesus Name. Psalm 37:4 Delight yourself in the Lord, and he will give you the desires of your heart
In the name of Jesus I declare that I have Divine life Partner as written in God's word in Jesus Name .Genesis 2:24 Therefore a man shall leave his father and his mother and hold fast to his wife, and they shall become one flesh.
Praying for your life partner is one of the greatest step you can take towards your marital destiny, now that you have Prayed, listen to God for directions and take practical steps according to Divine instructions in order to walk in perfect marital relationship. Trust in the process, have faith, and let prayer guide you towards the love and companionship you seek.
Go on and give thanks to God for your Life partner.