March prayer points for self, family, and friends. In the new month of March, there are many things that need to be done. You must firstly thank God for the life you have, and ask him to help make this month successful. In addition, you should pray for everyone in your household, friends and relatives
For every month of the year, set aside a special place and time to pray. Offer up words of thanksgiving and praise for God's blessings. Use this prayer points list to guide your personal prayers for your family and friends all through this new month of March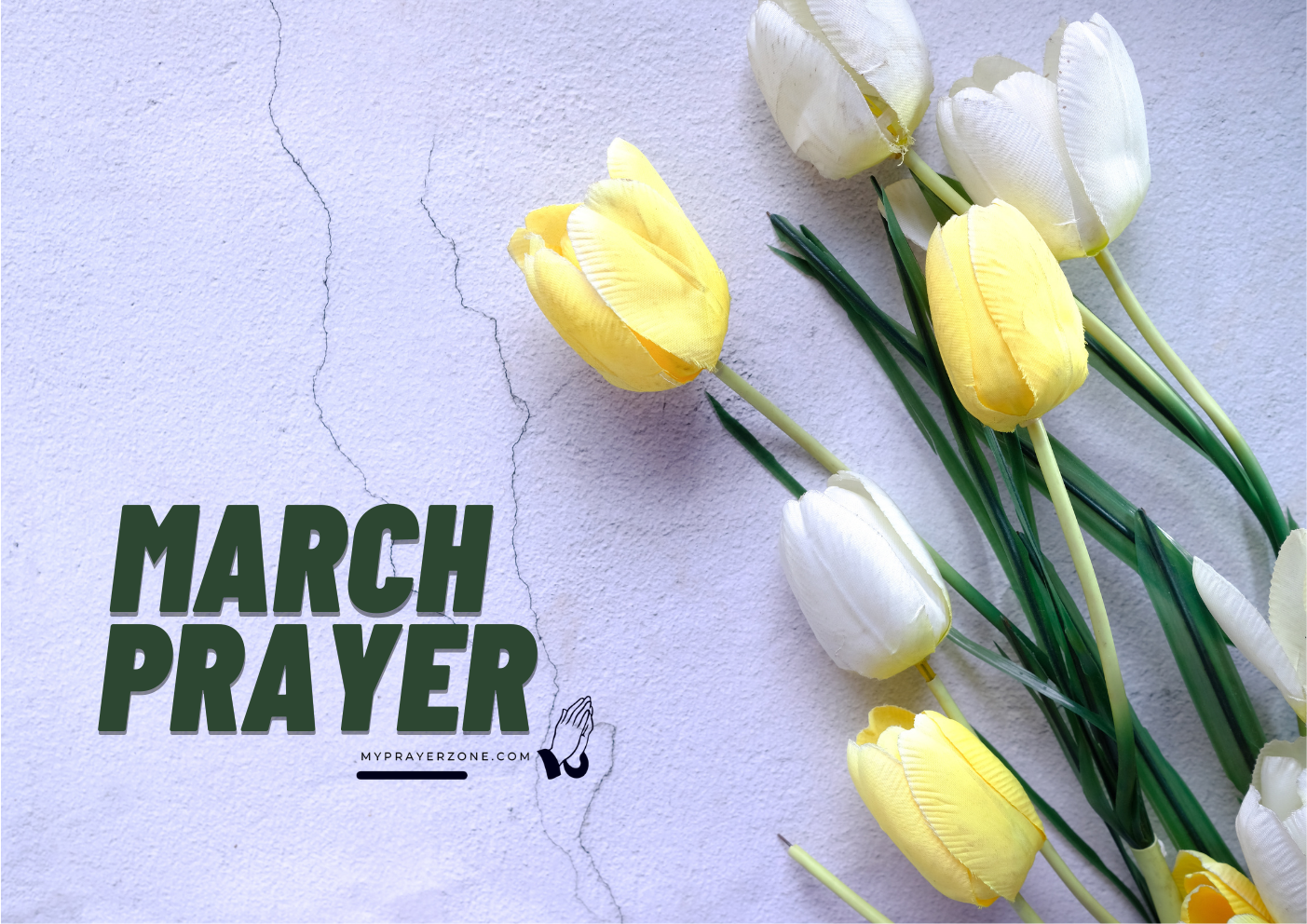 I will praise the lord at all times, his praise shall continually be in my mouth
1. Thank you for your steadfast love that never ceases, and your faithfulness that never comes to an end. Thank you because morning by morning your mercies I have seen. 
Lamentations 3: 22- 23.

 It is of the Lord's mercies that we are not consumed, because his compassions fail not.

23 They are new every morning: great is thy faithfulness
2. Thank you Lord for being with me through the journeys of life, thank you because you have never left me nor forsaken me.
Deuteronomy 31:6 KJV 6 Be strong and of a good courage, fear not, nor be afraid of them: for the Lord thy God, he it is that doth go with thee; he will not fail thee, nor forsake thee.
3. Thank you lord for hearing my prayers when I call to you.
Isaiah 65:24 NIV  Before they call I will answer;  while they are still speaking I will hear.
4. I thank you for the month of march and I declare by faith it shall be a month of breakthrough, victory, triumph, over challenges
Job 22:29 NIV When people are brought low and you say, 'Lift them up!'   then he will save the downcast.
1. Let every step I take and every move I make this month be ordered by you. Guide my going out and coming in from this time forth and forevermore
Psalm 121:7-8 The Lord shall preserve thee from all evil: he shall preserve thy soul. 8 The Lord shall preserve thy going out and thy coming in from this time forth, and even for evermore.
2. I call forth the wisdom, discernment, and sensitivity to know what to do when to do it and how to do it & who to do it with.
1 kings 3: 9 Therefore give to Your servant an understanding heart to judge Your people, that I may discern between good and evil. For who is able to judge this great people of Yours?"
3. I receive grace to know when to speak and when to be quiet. Let my lips speak the right words always.
Colossians 3:16 Let the message of Christ dwell among you richly as you teach and admonish one another with all wisdom through psalms, hymns, and songs from the Spirit, singing to God with gratitude in your hearts.
4. Father open my ears to hear what your spirit is saying, and give me visual acuity to see what you are showing me in the spirit
Matthew 20:33-34 "Lord," they answered, "we want our sight." 34 Jesus had compassion on them and touched their eyes. Immediately they received their sight and followed him.
5. Thank you lord for going before me, make every rugged path smooth every crooked place straight in Jesus Name
Isaiah 40:4. Every valley shall be raised up, every mountain and hill made low; the rough ground shall become level, the rugged places a plain.
Prayers Against Machination
( Prayer against any evil plot or scheme )
1. Wherever the enemies of my progress and lifting are laying a trap to ruin me, father be my refuge. Deliver me.
Psalm 31: 4-6  Pull me out of the net which they have secretly laid for me, For You are my strength.

5 Into Your hand I commit my spirit; You have redeemed me, O Lord God of ftruth.

6 I have hated those who regard useless idols; But I trust in the Lord.
2. Whenever enemies of my joy peace progress and life gather together let them be crushed and disgraced
Isaiah 54:15 If anyone does attack you, it will not be my doing; whoever attacks you will surrender to you.
3. Wherever weapons of lies, slander, and conspiracy are being fashioned against me, Lord net them never prosper. Vindicate me oh lord and turn what my enemies meant for evil to good.
Isaiah 54:17 no weapon forged against you will prevail,   and you will refute every tongue that accuses you. This is the heritage of the servants of the Lord,    and this is their vindication from me," declares the Lord.
4. Thank you father because I can rest in the assurance that your thoughts for me are good and never evil.
Jeremiah 29:11 11 For I know the plans I have for you," declares the Lord, "plans to prosper you and not to harm you, plans to give you hope and a future.
Personal Declarations To Say This Month of March.
I take hold of tour word in Philippians 4:7 (7 And the peace of God, which transcends all understanding, will guard your hearts and your minds in Christ Jesus. ) and I decree over my spirit soul and body peace. Peace that passeth all understanding, is my portion this month
From henceforth no man shall trouble me because I bear upon my body the mark of my lord Jesus
Galatians 6:17 From now on, let no one cause me trouble, for I bear on my body the marks of Jesus.
I am more than a conqueror, so this month I am scaling all obstacles, soaring new heights and overcoming all temptations