Special prayer points for the month of February. Engage these prayer points for the month of February with all boldness and fervency of spirit. The steadfast love of the Lord never ceases; his mercies never come to an end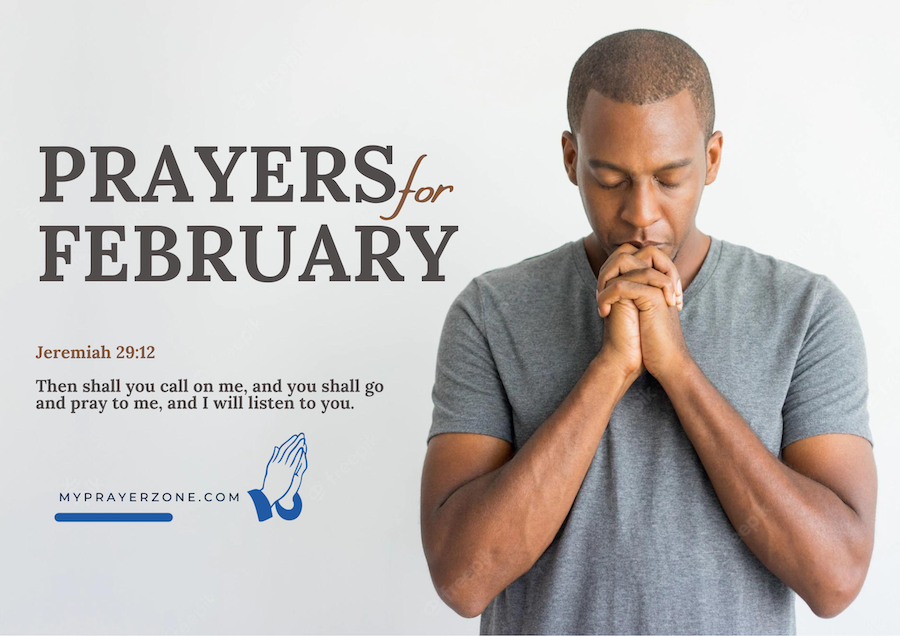 The Bible in Philipians 4:6 urged us to avoid being anxious about anything, but in every situation by prayer and petition with thanksgiving make your request known to God.
Philippians 4:6-7
6 Be anxious for nothing, but in everything by prayer and supplication, with thanksgiving, let your requests be made known to God; 7 and the peace of God, which surpasses all understanding, will guard your hearts and minds through Christ Jesus.
Worry and Anxiety do not bring solutions to your requests and petitions instead, they make your heart far from God thereby limiting what he can do through you and for you. Are you sick in your body? PRAY, Are you depressed and confused about what to do with your life? PRAY. 
Do you desire to be married but yet your partner hasn't shown forth? Phil 4;6 is the Answer to all these and more. Prayer, Supplication, with Thanksgiving will grant your desires to you. Approach prayer with the right mindset.
Below are some prayer points to assist you while you pray; they cut across different areas of your life, engage with all boldness knowing that God has given to you the answers to your petition.
PRAYER OF THANKSGIVING
Father, Thank you for I see your evident works in my life, business, Marriage, and career ( mention Areas of Concern). To you be all the praise, In Jesus Name.
Thank you, Lord, for always coming through for me in times of need, for all of the unseen battles you fought and won for me, I'm grateful!
Heavenly Father, Over my family, I say thank you for your joy, peace, and harmony among us, nothing missing, and nothing is broken.
Dear Lord, thank you for the growth and expansion I see in my business, and career ( mention areas of concern)
Thank you Lord for Good Health, sound mind and your overall protection over my life, family and those connected to me. Thank you Lord.
PRAYER FOR HEALTH / HEALING
Father, thank you for my health for I believe that I have received my good health, void of satanic oppression and the unforeseen plan of the devil.
According to your word Father, you said you took all my sickness and infirmities nailing them to the cross, with this assurance I curse every sickness and infirmity instantly!
I boldly declare over this doctor's report ( pick up the doctor's report and say this prayer) I am healed of the lord, afflictions shall not rise again in my body.
I confess I am healed, and whole my body responds to treatment and my health moves from one Glorious standard to another, In Jesus Name.
I deep myself into the pool of the Blood Of Jesus and I confess I am Healed!
I speak to my bones, joints, body, tissue and every organ of my body and I call you normal this Minute!
Every resistance to my good health, I come against you In Jesus Name, I am the healed of the Lord.
I boldly confess that I live in Health and Vitality; Free from the bondage of sin
Lord for those believing you for a miracle in their health; I ask that you visit them and grant to them their healing.
Thank you, Father, For restoring my health and vitality to me!
PRAYER FOR FINANCE
Father, I thank you for my finance and all of the growth I experience; Glory to your Name.
Father over my finance I ask for a mega expansion in my finance, My business experience an upsurge In Jesus Name.
Lord, I ask for divine and strategic relationships that would boost my finance from this level to another level of glory In Jesus Name.
Every power limiting my finance from moving forward I curse them now!
Thank you, Lord for answering all my prayers!
Please add your personal expectation prayer points and also intercede for others. Have a blessed month of February.