Prayer for our child to get married and have a happy family, prayer for daughter to find a good spouse, prayer for who will marry my child, prayer for our child to find a loving partner.
As a parent, seeing your children grow up and take the next step of getting married is a moment of great joy and pride. However, this process can also be a source of stress and worry, especially if your child is having difficulty finding the right partner. In times like these, prayer can be a powerful tool to bring comfort, guidance, and blessings to your child's life.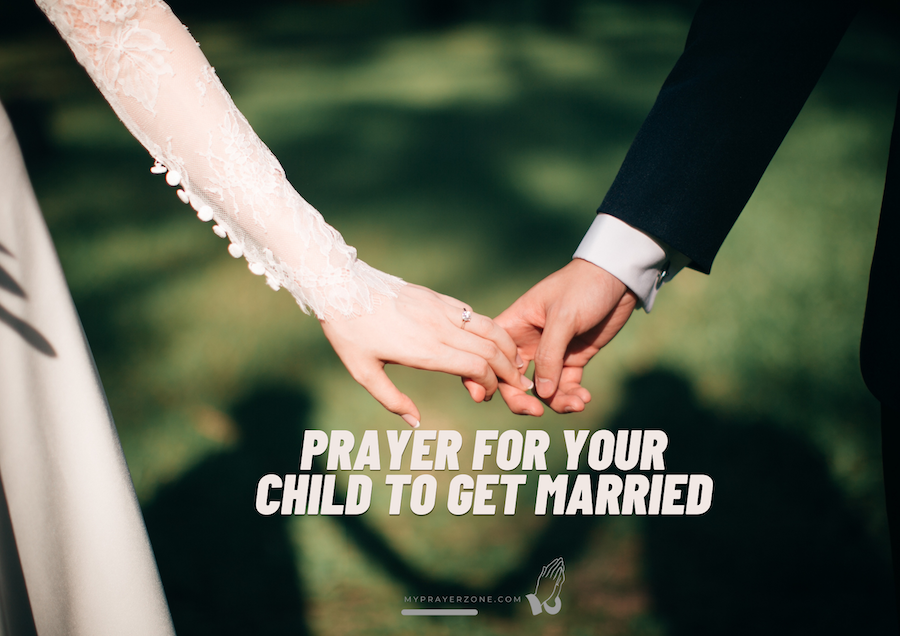 In this special prayer post, we listed some of the most effective prayers and scriptures for children to get married, and how you can use them to support your child's journey towards finding their soulmate. We therefore encourage you to pray the following prayer points with tenacity and living faith in your heart.
1. Heavenly Father we thank You because You alone are the perfect matchmaker and you're working perfectly for our children's marriage. Isaiah 34:16 Look in the scroll of the LORD and read: None of these will be missing, not one will lack her mate. For it is his mouth that has given the order, and his Spirit will gather them together.
2. Lord Jesus, by your divine power, connect my children with the partner you have ordained for them. Do not let them be led astray by deceit and pleasures of this world.  Jeremiah 29:11 For I know the plans I have for you, declares the Lord, plans to prosper you and not to harm you, plans to give you hope and a future.
3. Father, by the power in the name of Jesus the Christ, I break every barrier standing in the way of my children's marital destiny. Let your covenant of divine settlement speak for my children and let them be divine married to their God ordained spouse on or before ( please put a specific date you want for your child to get married here) in Jesus name. I Peter. 5: 10 And the God of all grace, who called you to his eternal glory in Christ, after you have suffered a little while, will himself restore you and make you strong, firm and steadfast.
4. Lord Jesus let my children spouse be a person who loves you wholeheartedly in the name of Jesus. 1 John 4:12 No one has ever seen God; but if we love one another, God lives in us and his love is made complete in us.
5. Lord, as you bring the right partner to our children, we pray that you establish their homes according to the scriptures in Jesus name. Psalm 143:8 Let the morning bring me word of your unfailing love, for I have put my trust in you. Show me the way I should go, for to you I entrust my life.
6. Almighty God, let all satanic barriers keeping our children from meeting their original partner be dissolved in Jesus' name. Mark 10:9 Therefore what God has joined together, let no one separate. 
7. Lord, send forth your warring angels to battle and release their spouse wherever she/he is held captive in the name of Jesus.Proverbs 31:10  Who can find a virtuous woman? For her price is far above rubies. Matthew 9:38 Therefore beseech the Lord of the harvest to send out workers into His harvest."
8. God of all Graces we believe you have created them for peculiar person (s); bring it to pass in the name of Jesus. We now call him/her out of obscurity into their life in Jesus' name. We reject the provision of counterfeit spouse for them by the enemy in the name of Jesus.  Song of Solomon 2:16   I am my beloved's, and my beloved is mine. 
9. O Lord, let the spirit of patience reign in their life until the right person comes in the name of Jesus. Proverbs 19:14 Houses and wealth are inherited from parents, but a prudent wife is from the Lord.
10. King of Mercy, in the name of Jesus, just as Abraham sent his servant to find his son Isaac a wife, send the Holy Spirit to bring the  future partner our children to them. Genesis 24:1-4 Abraham was now a very old man, and the Lord had blessed him in every way,  One day Abraham said to his oldest servant, the man in charge of his household, "Take an oath by putting your hand under my thigh, Swear by the Lord, the God of heaven and earth, that you will not allow my son to marry one of these local Canaanite women, Go instead to my homeland, to my relatives, and find a wife there for my son Isaac.
See This: Prayer Points for Personal Growth
11. Lord by your mercy help my children to find someone that practice true love according to the Bible in Jesus Name. John 15:12 This is my commandment, that you love one another as I have loved you.
12. Heavenly father let my children marry within the same folk liked minds in Jesus Name. They'll not be victim of toxic minds in Jesus Name. Philippians 1:7 I hold you in my heart, for we have shared together God's blessings.
13. My Father help my children to marry well in the Name Of Jesus Christ. Jeremiah 29:11 For I know the plans I have for you, declares the Lord, plans to prosper you and not to harm you, plans to give you hope and a future.
14. Heavenly Father help I command every necessary resources that is needed for my children marriage to be available in the name of Jesus Christ. Philippians 4:19  And my God shall supply all your need according to His riches in glory by Christ Jesus.
15. King of Mercy cause it to happen that the divine match will come forth according to your Divine timing in the name of Jesus.  Proverbs 31:10 Who can find a virtuous woman? For her price is far above rubies.
16. Heavenly Father, I give you thanks for I believe that my children will marry well in the Name of Jesus Christ. 1THESSALONIANS 5:16-18 Rejoice always, pray continually, give thanks in all circumstances; for this is God's will for you in Christ Jesus.
Please fill in your expectations and pray in faith for your children.
Do not forget that the greatest responsibility of parents towards their children's marriage is to pray for them.