Prayer Points and Scriptures for Your Children's Marriage.
The Joy of parents that their children are enjoying a successful marriage cannot be over emphasized, this fulfilment can be secured in the place of prayer. It's one thing to marry yet another thing to have a successful marriage. Pray the following prayers for your children's Marital success as God is ever ready to give us good success.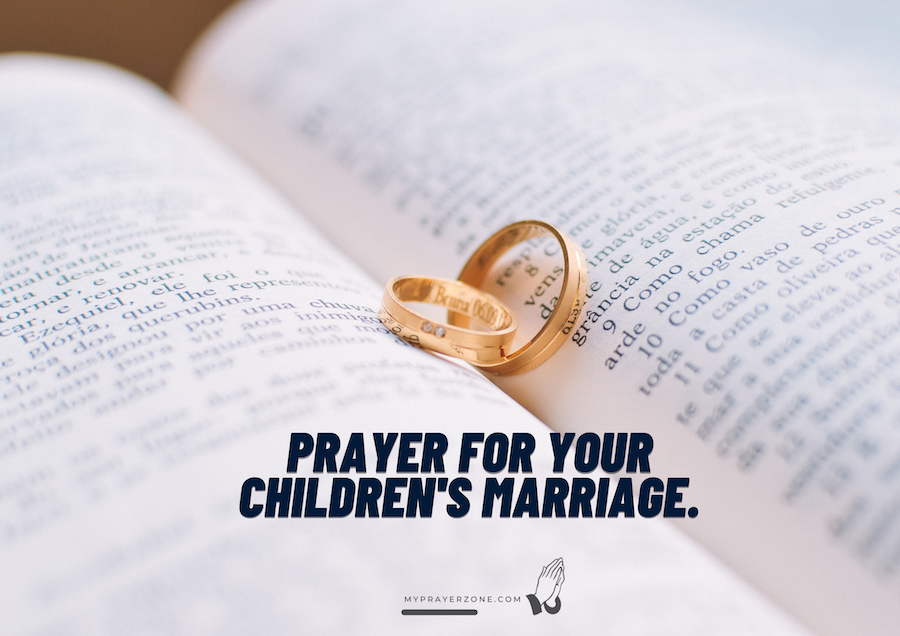 1. Father we thank you for your promises concerning the success of our children's marriage and your commitment to make it happen for our good. PSALM 103:1-4 Praise the LORD, my soul; all my inmost being, praise His holy name. Praise the LORD, my soul, and forget not all His benefits who forgives all your sins and heals all your diseases, who redeems your life from the pit and crowns you with love and compassion.
2. Dear Lord help our children to love one another as you commands us to and let nothing separate them in the name of your son Jesus.  John 13:34 Yet Jesus also said, "I give you a new commandment: love one another. Just as I have loved you, you must also love one another 
3. Oh King of Kings we command every storm in our children's marriage to keep calm in the Name of Jesus. Let there be Peace in their Home in the name of Jesus. Matthew 8:23-26. And when he was entered into a ship, his disciples followed him And, behold, there arose a great tempest in the sea, insomuch that the ship was covered with the waves: but he was asleep. And his disciples came to him, and awoke him, saying, Lord, save us: we perish. And he saith unto them, Why are ye fearful, O ye of little faith? Then he arose, and rebuked the winds and the sea; and there was a great calm.
4. Father in the name of Jesus we cover our children's marriage by the power in the blood of Jesus, no demonic spirit will claim their lives in the name of Jesus. Hebrew 10:22 instead of the altar, and makes us clean. His blood is like pure water that cleanses our bodies. It changes us from sinners into saints!
5. King of Mercy, it is written in your word that marriage is honorable, let the honour of marriage be released upon our children in the name of Jesus. Hebrews 13:4, "Marriage is honorable among all, and the bed undefiled; but fornicators and adulterers God will judge
6. In the mighty name of Jesus Christ we command every negative force upon the wealth of our children to sabotage their union to catch Fire right now in the name of Jesus. Psalm 18:13 The Lord thundered from heaven, And the Most High uttered His voice, Hailstones and coals of fire.
7. My father in heaven all it takes for our children's home to be successful begin to happen to them in the Name of Jesus Christ. Lamentations 3:22-23 The steadfast love of the Lord never ceases, his mercies never come to an end; they are new every morning; great is your faithfulness.
8. God of all Graces let your glory shine in the lives of our children and their marriage in the name of Jesus Christ. Isaiah 60:1 Arise, shine; for thy light is come, and the glory of the LORD is risen upon thee.
9. We command any resource that is lacking in the marriage of our children to be made available the name of Jesus Christ and let their marriage be an exemplary one in the Name of Jesus. 1 Kings 17:6 The ravens brought him bread and meat in the morning and bread and meat in the evening, and he would drink from the brook.
See This: Prayers for Your Child to Get Married
10. King of Heaven and Earth, the owner of heavens resources let our children be wealthy, supply all their needs according to your riches in glory in the Name of Jesus. Psalms 5:12 For it is You who blesses the righteous man, O LORD, You surround him with favor as with a shield.
11. Father we ask that you give our children the wisdom it takes to have a successful marriage in the name of Jesus Christ. James 1:5 If any of you lacks wisdom, he should ask God, who gives generously to all without finding fault, and it will be given to him.
12. King of Light, every form of darkness in the family of our children we decree Light over it in the name of Jesus Christ of Nazareth. Gen 1:3 And God said, "Let there be light," and there was light.
13. Heavenly father, let there be abundance of fruitfulness in the lives of our children in the name of Jesus Christ. Ephesians 3:20 Our God is able to do exceedingly abundantly above all we ask or think"
14. We decree the fruit of the womb in the marriage of our children in the name of Jesus, they shall not lack male and female children in the name of Jesus Christ. Psalm 128:3 "Your wife will be as a fruitful vine, In the innermost parts of your housel Your children like olive plants, Around your table.
15. Prince of Peace, we ask that our children's children will grow up in wisdom and in stature in the name of Jesus Christ, they'll not have stubborn children save obedient ones in Jesus Name. Luke 2:52. And Jesus increased in wisdom and stature, and in favour with God and man"
Bless the Lord with all your heart for He is good and His mercies endureth forever. Believe in your heart by Faith that God has answered You for He's committed to the success of marriage. Without doubt in your heart go on and declare the faithfulness Of God in your children's marriage.
We Recommend You Read and Share This Prayer with your child today: Prayer Points for Personal Growth