Your wedding day is one of the most important days of your life. It is a day when you and your partner publicly declare your love for each other in front of friends and family. Many couples spend months, if not years, planning every detail of their wedding day to make it perfect. However, amidst all the hustle and bustle of wedding planning, it's easy to forget the most important aspect of your wedding day: the spiritual significance.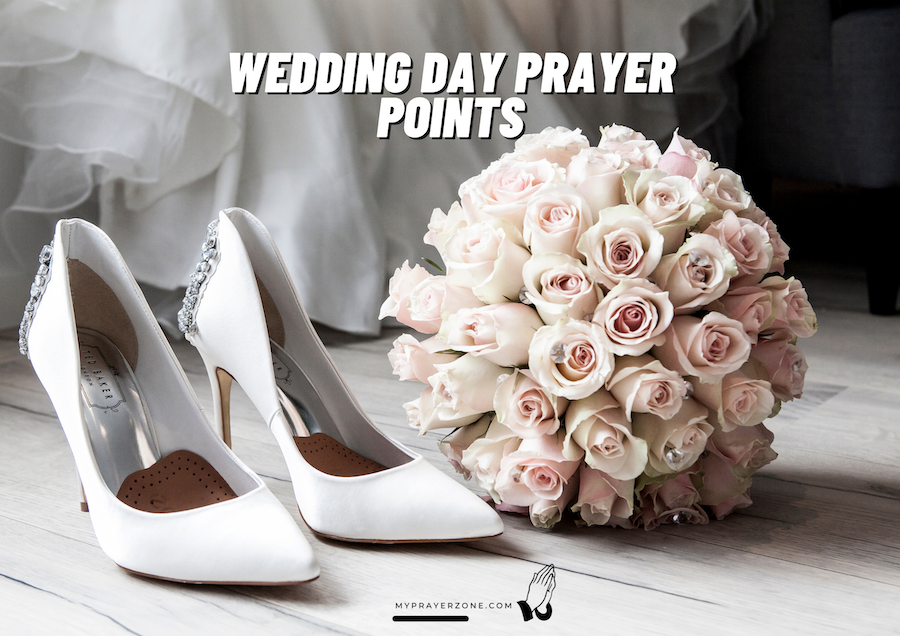 One way to ensure that your wedding day is spiritually fulfilling is to incorporate prayer into your wedding ceremony. Prayer is a powerful tool that can help you and your partner connect with God and each other on your wedding day. In this blog post, we will discuss some prayer points to help you prepare for your wedding day and make it a truly special and meaningful occasion.
1. Father I thank You for the Grace to locate my life partner and the privilege to prepare for my wedding day. I return all the glory in the name of your son Jesus Christ.
1 Thessalonians 5:16-18 Rejoice always, pray continually, give thanks in all circumstances; for this is God's will for you in Christ Jesus.
2. Lord Jesus by the power of your word I declare that my wedding day is glorious, wonderful, excellent, marvelous, supernatural, peculiar and Fulfilling in the Name of Jesus
Ecclesiastes 3: 11 He has made everything beautiful in its time.
3. Heavenly Father you know the secret of the dark, you see the plans beneath the earth, Let there be no satanic manipulation on that day in the name of Jesus Christ.
Ephesians 6:10-11 "Finally, be strong in the Lord and in his mighty power. Put on the full armor of God, so that you can take your stand against the devil's schemes."
4. Dear Lord Jesus, you said we should not worry, I rest my heart in your word for Divine provision for my wedding in the Name of Jesus Christ.
Philippians 4:6-7 "Do not be anxious about anything, but in every situation, by prayer and petition, with thanksgiving, present your requests to God. And the peace of God, which transcends all understanding, will guard your hearts and your minds in Christ Jesus.
5. I command all the resources (Human, Spiritual, money, materials etc) that is required to make my wedding a good success to be made available in the mighty name of Jesus Christ. God's Grace Gives Me Everything!
2 Corinthians 9:8 And God is able to bless you abundantly, so that in all things at all times, having all that you need, you will abound in every good work
6. Lord by your word I pray for my wedding day that you will do more exceedingly, abundantly above all that I can ever think of or imagine in the name of Jesus Christ.
Ephesians 3:20. Our God is able to do exceedingly abundantly above all we ask or think"
7. By the power in the name of Jesus Christ, No one will be a victim of road accident, fire accident and electrical accident in the name of Jesus.
8. Lord Jesus protect my spouse to be and her family members in the Name of Jesus Christ. There shall be loose on or before our wedding day. 
Isaiah 54:17 No weapon that is formed against thee shall prosper; and every tongue that shall rise against thee in judgment thou shalt condem.
9. King of Glory I earnestly desire that you take over the affairs of my wedding day in the minute things and in the conspicuous things, from the cooking to the transportation, down to the decoration of event centre, the music and every other thing in the Name of Jesus Christ.
Job 42:2. I know that you can do all things, and that no purpose of yours can be thwarted
10. Elshaddai I give you thanks for good health over the years and I declare that sound health is my portion on or before my wedding day in the name of Jesus Christ.
Exodus 15:26  For I am the Lord who heals you
Prayer for Your Children Marital Success
11. King of Glory let your glory so shine on my wedding day that every one will renew their covenant with you and live in purity of Life in the Name of Jesus. Let immorality be defeated by the power of the holy Spirit in Jesus Name.
Matthew 5:8 Blessed are the pure in heart, for they shall see God.
12. My Father my Father let your angels be released to protect everyone that will be attending my wedding and anyone that will be fucntioning in one way or the other in the name of Jesus Christ.
Psalm 91:11 For He will give His angels charge concerning you,To guard you in all your ways.
13. My father in heaven as I begin to pray let every wicked power that is standing against the success of my wedding day catch fire in the name of Jesus Christ.
Proverb 14:32 The wicked are crushed by disaster, but the godly have a refuge when they die.
14. Oh God of war fight my battles. Win the wars for me.
Exodus 13:13 The Lord is a man of war, the Lord is His Name.
15. King of All Graces I give you thanks because my wedding day is a success already, you're committed to make it happen by your word and I walk in the reality in Jesus Name.
1 THESSALONIANS 5:16-18 Rejoice always, pray continually, give thanks in all circumstances; for this is God's will for you in Christ Jesus.
A wedding day is a day of Joy and High spiritual activity because it's a beginning of a new home and it's a day off fulfillment of prophecies. To this end you are encouraged to seriously pray theses prayer points with all of your heart for God's presence, protection, provision and overall supervision of the day in order to have an eternally glorious wedding. Believe in your heart that it's God's will to give you a great and glorious wedding and go in this thy might walking in absolute faith against all odds in order to manifest the answers that you've received in Christ.
Do not doubt for God is not a man that He should like or the son of man that He should repent.