Prayer for Conception.
Prayer for Conception & Miracle Pregnancy in Marriage, prayer for the fruit of the womb, prayers for divine conception for couples waiting on the Lord.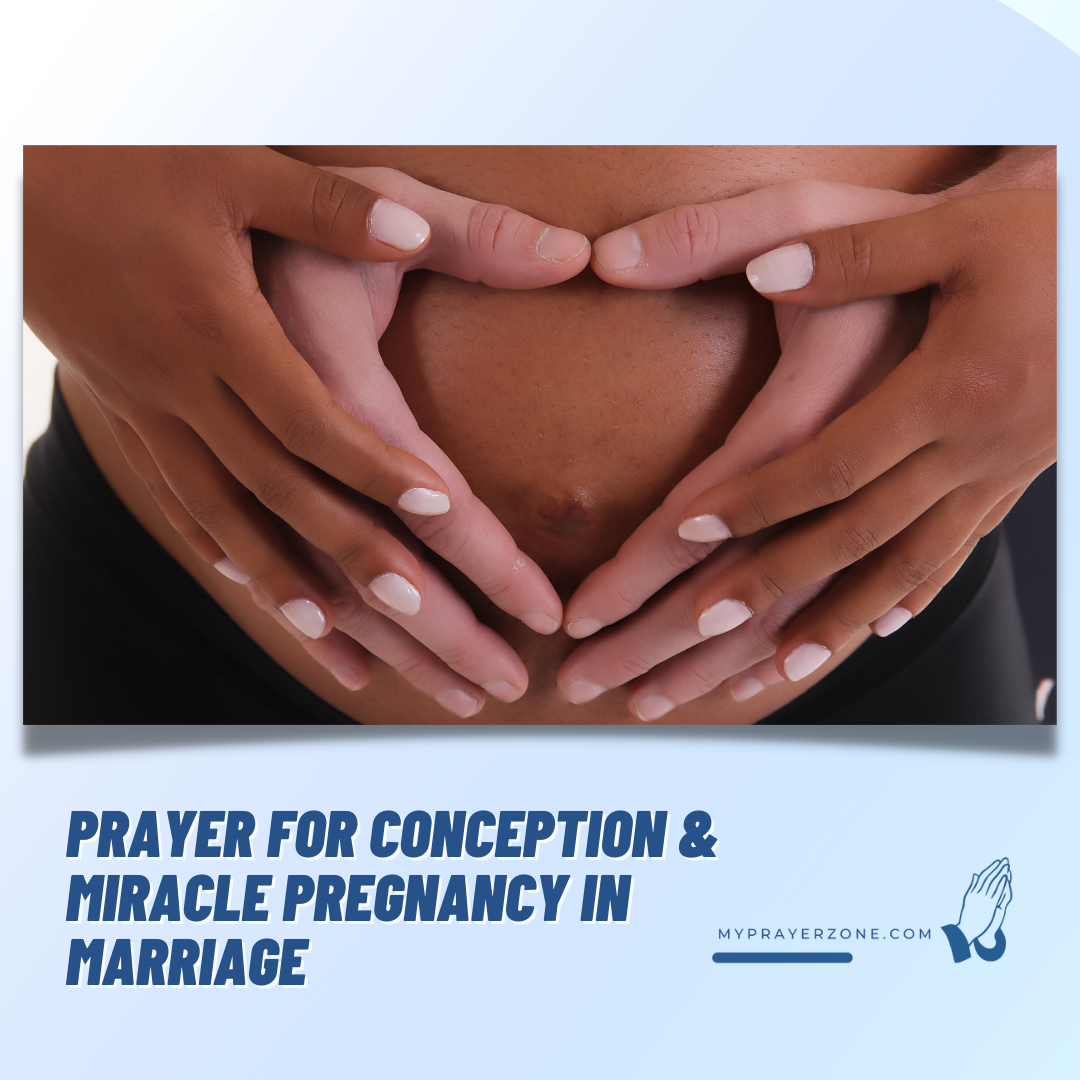 The will of God for couples is fruitfulness and multiplication but there are so many issues with conception in marriages today, I want you to know that your case is different and as you pray this prayer points your testimony is sure in the name of Jesus Christ.
Pray for guidance: Ask God to show you the best path forward for starting or expanding your family. Pray for guidance on what steps you should take next.
Pray for healing: If there are any physical or emotional barriers preventing you from getting pregnant, pray for healing. Ask God to help your body and mind become healthy and whole.
Pray for patience: Waiting for a positive pregnancy test or dealing with infertility can be incredibly frustrating and heartbreaking. Pray for patience to endure the waiting and the strength to persevere through the challenges.
Pray for peace: The stress and anxiety of trying to conceive can take a toll on your mental health. Pray for peace and calmness in your heart and mind.
Pray for support: Seek out a community of supportive individuals who can help you through this difficult time. Pray for relationships that provide comfort and encouragement.
Prayers for A Miracle Pregnancy
Miracle Prayers For Getting Pregnant. Are you struggling to conceive and looking for a miracle to help you get pregnant? If so, consider incorporating these miracle prayer points into your daily routine:
Dear God, I pray for your divine intervention in my life. I ask for your miraculous power to touch my womb and grant me the gift of conception.
Father, I trust in your promises, and I believe that you are faithful to your word. Please bless me with a healthy pregnancy and a healthy baby.
Lord, I pray that you remove any obstacles that may be hindering my ability to conceive. I ask for your healing touch to restore my reproductive system to its optimal condition.
God, I pray that you grant me the patience to wait for your timing. Help me to trust in your plan for my life and to remain steadfast in my faith.
Heavenly Father, I pray for your protection and guidance throughout my pregnancy. I ask that you watch over me and my baby and keep us safe from harm.
Lord, I pray for a smooth and easy delivery when the time comes. I ask for your strength and courage to endure the pain and for your grace to guide me through the process.
God, I pray for the health and well-being of my future child. Please bless my baby with a strong body, a sharp mind, and a kind heart.
Father, I pray for your provision and provision over my pregnancy. Please provide me with the necessary resources and support to ensure a healthy and happy pregnancy.
Lord, I pray for your peace and comfort during this time. Help me to release any fears or anxieties and to trust in your goodness and love.
God, I thank you for the gift of life and for the opportunity to become a mother. I pray that you continue to bless me and my family and to guide us on our journey. Amen.
Recommended: Prayer for Your Spouse – 15 Powerful Prayers for Your Spouse Right Now
Remember, miracles can happen, and prayer can be a powerful tool in your journey towards motherhood. Keep the faith and trust in God's plan.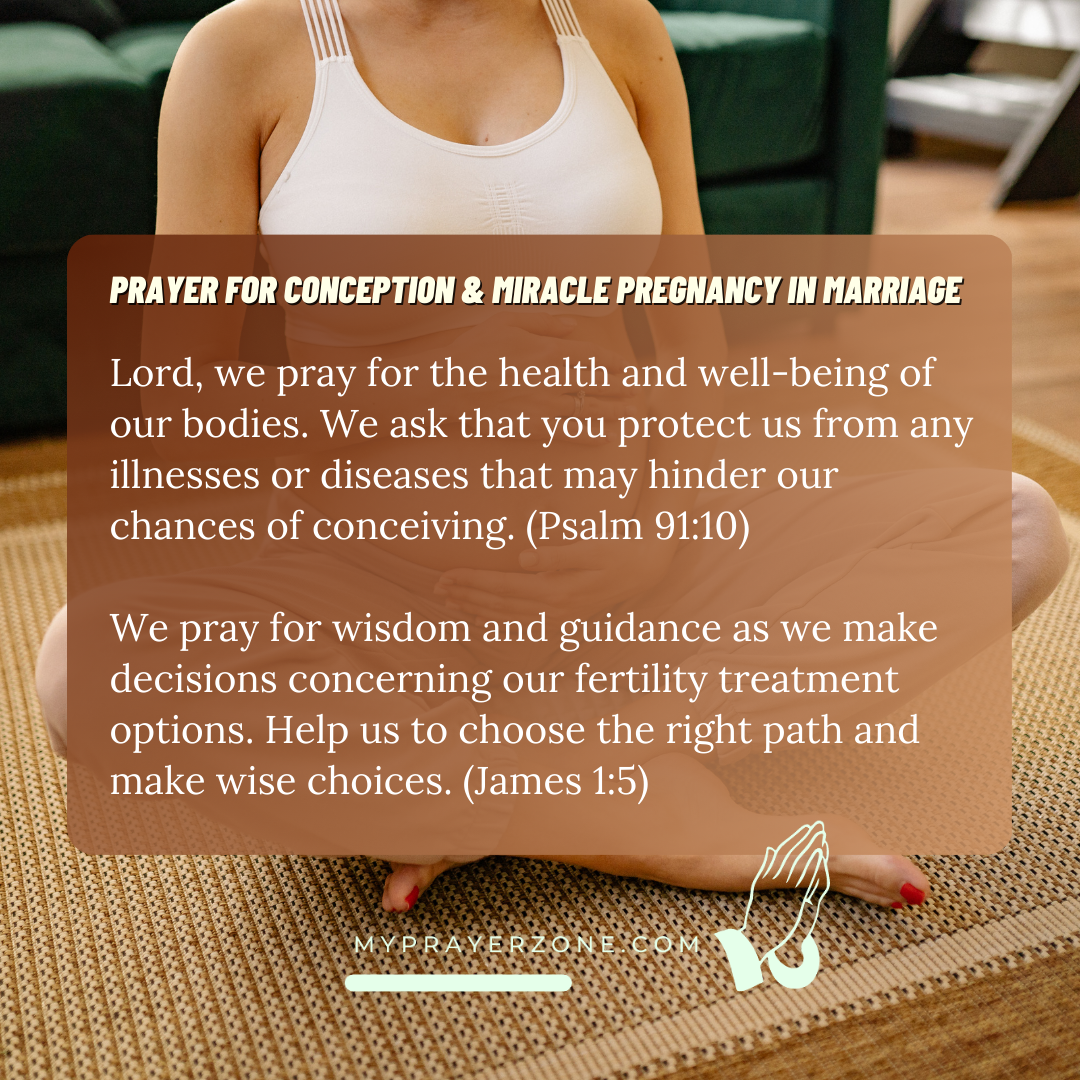 Prayer Points and Scriptures for Conception in Marriage.
1. Heavenly Father be it unto my family According to your word and let there be fruit of the womb in Jesus Name.
Psalm 128:3, Thy wife shall be as a fruitful vine by the sides of thine house: thy children like olive plants round about thy table.
3. I receive the gift of fruit of the womb in the name of Jesus Christ.
James: 1:17, Every good gift and every perfect gift is from above, and cometh down from the Father of lights, with whom is no variableness, neither shadow of turning.
4. I decree in the name of Jesus, that I shall carry my baby according to the time of life and deliver safely in the name of Jesus.
Ecclesiastes 3:14, I know that, whatsoever God doeth, it shall be forever: nothing can be put to it, nor any thing taken from it: and God doeth it, that men should fear before him.
5. I receive strenght to bear children,  Fruit of the womb is my portion in the name of Jesus.
Philippians 4:13, I can do all things through Christ which strengthened me.
6. I release every fear of childbearing unto God and position myself for conception in the Name of Jesus Christ.
Psalm 56:3. When I am afraid, I put my trust in You.
7. Lord according to your word I refused to be called barren, I am fruitful in the name of Jesus.
Exodus 23:26, There shall nothing cast their young, nor be barren, in thy land: the number of thy days I will fulfil.
8. I am fruitful Because I am identified with Christ, I shall not labour in vain due to miscarriage, I am blessed with the fruits of the womb in the name of Jesus.
Isaiah 65:23, They shall not labor in vain, nor bring forth for trouble; for they are the seed of the blessed of the Lord, and their offspring with them.
9. I receive Power to concieve and Strenght to put forth in the name of Jesus.
Isaiah 40:29, He giveth power to the faint; and to those that have no might he increases strength.
10.  I will testify concerning fruits of the womb in the name of Jesus merciful name.
1 Samuel 1:27, For this child I prayed; and the Lord hath given me my petition which I asked of him:
11. I believe that my time has come and I will rejoice in the name of Jesus Christ. It doesn't matter how long I have waited for the fruits of the womb; I will rejoice in the Lord my salvation in the name of Jesus.
Habakkuk 3:18 ,Yet I will rejoice in the Lord, I will joy in the God of my salvation.
12. I receive the strength of the living God and I overcome delay regarding the fruits of the womb in the name of Jesus.
Exodus 15:2 ,The Lord is my strength and song, and he is become my salvation: he is my God, and I will prepare him for a habitation; my father's God, and I will exalt him.
13. Thank you, Jesus, because I know I will not be put to shame over conc eption in the name of Jesus.
Psalm 18:6 ,In my distress I called upon the Lord, and cried unto my God: he heard my voice out of his temple, and my cry came before him, even into his ears.
14. My Power of the Holy Ghost I silence every power attacking my family in the name of Jesus. For God is for me, I will be fruitful in Jesus name.
Romans 8:31, What shall we then say to these things? If God be for us, who can be against us?
15. My time to rejoice has come in the name of Jesus Christ.
Ecclesiastes 3:1, To everything there is a season, and a time to every purpose under the heaven.
Procreation is a major project in the hand of God and I want you to believe God and Hold him by His word that as you have prayed the answers are yours already, Go ahead and rejoice for the Zeal of the Lord will accomplish this.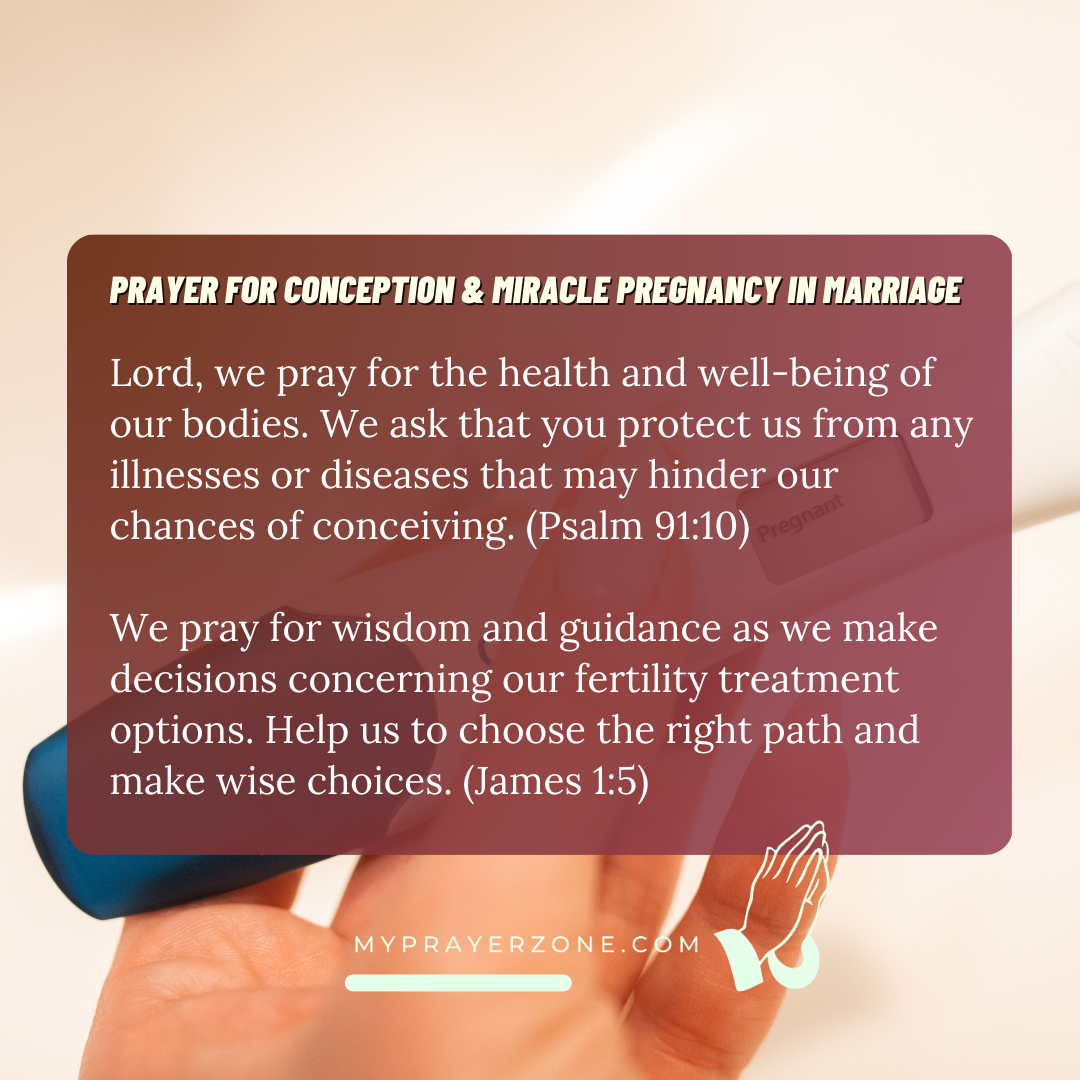 Prayer for Couples Hoping to Conceive
Dear Heavenly Father, we come before you today in prayer and thanksgiving. We know that you are the giver of all good things, and we ask that you bless us with the gift of a child. We believe that children are a heritage from you, and we pray that you will grant us this blessing according to your will.
Here are ten prayer points for couples hoping to conceive, backed by scriptures:
Lord, we pray for your grace and mercy to be upon us as we try to conceive. We know that all things are possible with you, so we ask that you open our womb and bless us with a child. (Genesis 25:21)
We pray that you give us the patience and strength to trust in your timing. Help us to wait patiently and not lose faith in your promise of blessing us with a child. (Psalm 27:14)
Lord, we pray for the health and well-being of our bodies. We ask that you protect us from any illnesses or diseases that may hinder our chances of conceiving. (Psalm 91:10)
We pray for wisdom and guidance as we make decisions concerning our fertility treatment options. Help us to choose the right path and make wise choices. (James 1:5)
Lord, we pray for your provision in our lives. We know that raising a child can be costly, so we pray that you provide us with the financial resources we need to care for our child. (Philippians 4:19)
We pray for the strength and unity of our marriage during this time. Help us to support and encourage one another, and to lean on you for strength when we feel overwhelmed. (Ecclesiastes 4:9-12)
Lord, we pray for protection over our child. We ask that you watch over them and keep them safe from harm. (Psalm 121:7-8)
We pray for a healthy pregnancy and safe delivery. We ask that you guide us through this journey and bless us with a healthy child. (Psalm 139:13-16)
Lord, we pray for your peace and comfort during times of disappointment and loss. Help us to trust in your plan and find comfort in your love. (John 14:27)
We pray that our child grows up to know and love you. We ask that you give us the wisdom and strength to raise them in your ways and to teach them about your love. (Proverbs 22:6)
In Jesus' name, we pray. Amen.
Recommended: Prayer for My Husband