Prayer for Resolving Conflicts in Marriage / Relationship.
God's plan for our marriages and relationship is Joy, Peace, and Intense Love but Satan comes to steal, kill and destroy all of these blessings that God has for us, we, therefore, encourage you to pray the following prayer points in order to restore/refresh the Joy of your marriage/relationship.
Marriage is a sacred bond between two individuals who vow to love and cherish each other for a lifetime. However, conflicts are inevitable in any relationship, and marriage is no exception. In times of conflict, it is essential to seek guidance and help from a higher power. Prayer can be a powerful tool to resolve conflicts and restore harmony in a marriage.
Prayer is a way of communicating with God and seeking his guidance and support. It helps us to focus our thoughts and emotions, and it can be a source of comfort and strength in difficult times.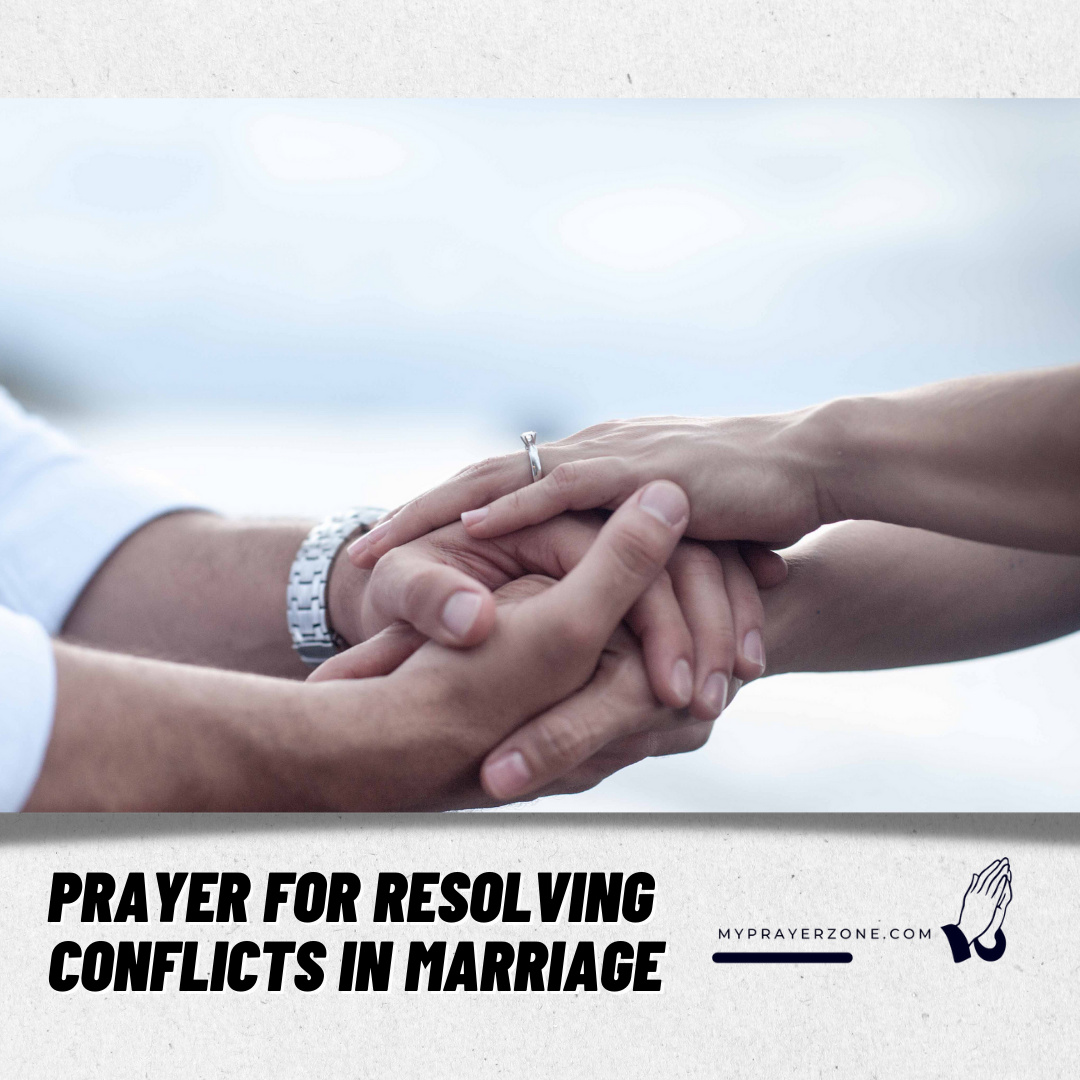 Couples Prayers for Resolving Conflicts in Marriage.
Here are a few prayers that couples can recite together to help resolve conflicts in their marriage:
Prayer for wisdom and understanding: "Dear God, we come to you today seeking your wisdom and understanding. Help us to see each other's perspectives and to understand each other's feelings. Guide us as we work to resolve our conflicts and strengthen our marriage. Amen."
Prayer for forgiveness: "Dear God, we ask for your forgiveness for the hurtful words and actions that we have directed towards each other. Help us to let go of our anger and resentment and to forgive each other. Grant us the grace to love and serve each other as you have called us to do. Amen."
Prayer for patience and humility: "Dear God, we pray for patience and humility as we work through our conflicts. Help us to be slow to anger and quick to listen. Give us the strength to humble ourselves and to seek the good of our marriage above our own desires. Amen."
Prayer for love and unity: "Dear God, we ask for your blessing on our marriage. Help us to love each other as you have loved us. Guide us to work towards unity and harmony in our relationship. May our marriage be a reflection of your love and grace. Amen."
Prayers & Scriptures for Resolving Conflicts in Marriage.
These prayers can be recited together or individually, depending on the situation. They can be a source of comfort and strength in times of conflict and can help couples to restore love and harmony in their marriage.
1. Dear Lord Jesus, Prince of Peace Let your Grace overwhelm my marriage/relationship and counter every conflict in our living
2 Corinthians 13:14. The grace of the Lord Jesus Christ, and the love of God, and the fellowship of the Holy Spirit, be with you all.
2. Heavenly Father, help me provide for my family, by your power Lord let every problem in my marriage caused by financial inadequacies be quenched in Jesus Name.
1Timothy 5:8 Anyone who does not provide for their relatives, and especially for their own household, has denied the faith and is worse than an unbeliever
3. My Father in heaven every work of nature of the flesh that is causing conflicts in my marriage be destroyed by fire in name of Jesus.
James 4:7 What is the source of quarrels and conflicts among you? Is not the source your pleasures that wage war in your members?
4. Dear Lord Jesus keep me in sync with your spirit and help us not to be divided in Jesus Name.
Luke12:53, They will be divided, father against son and son against father, mother against daughter and daughter against mother, mother-in-law against daughter-in-law and daughter-in-law against mother-in-law."
5. In the name of Jesus Christ, I receive Grace to increase in Love, harmony, and peace in my marriage/relationship today.
Psalm 115:14 May the Lord give you increase, You and your children.
6. Father give us the grace to manage and resolve our conflicts, we shall not be put to shame by gathering People to settle us in Jesus Name.
1 Corinthians 6:1 Does any one of you, when he has a case against his neighbor, dare to go to law before the unrighteous and not before the saints?
7. My Father in heaven, I surrender my family issues into your hands, I fight for the peace and harmony of my marriage/relationship in Jesus Name.
Nehemiah 4:14 When I saw their fear, I rose and spoke to the nobles, the officials and the rest of the people: "Do not be afraid of them; remember the Lord who is great and awesome, and fight for your brothers, your sons, your daughters, your wives and your houses."
8. Dear Lord help us to understand that there are moments of misunderstanding that requires only more prayers and settlement than following the world's perspective of separation and fighting for one's right in Jesus Name.
Proverbs 17:17 A friend loves at all times, And a brother is born for adversity.
9. Dear lord Jesus help us to walk in fear and reverence for you that peace may abound in our relationship
Exodus 1:17 But the midwives feared God, and did not do as the king of Egypt had commanded them, but let the boys live.
10. Heavenly father I ask that instead of strife, and conflicts let there be Harmony in my marriage in the Name of Jesus Christ.
Psalm 115:12 The Lord has been mindful of us; He will bless us;He will bless the house of Israel; He will bless the house of Aaron.
11. Every demon of strife causing havoc in my marriage be destroyed in the name of Jesus Christ.
Proverbs 17:1 Better is a dry morsel and quietness with than a house full of feasting with strife.
12. Lord help me to resist laziness and every form of sluggish attitude that will cause problem in my marriage in Jesus mighty Name. 
proverbs 13:10 Through insolence comes nothing but strife, But wisdom is with those who receive counsel.
13. Help me to gaze on You and endure every form of conflict untill your love overwhelms my marriage/relationship in Jesus Name.
Hebrews10:32 But remember the former days, when, after being enlightened, you endured a great conflict of sufferings,
14. Give us discernment to stand against cunning men that desires to cause trouble in our marriage/relationship in Jesus Name.
Proverb 16:28 A perverse man spreads strife, and a slanderer separates intimate friends.
15. Dear Lord I give you thanks for giving me the wisdom it takes to resolve every conflict in my marriage and relationship. I receive and manifest it in Jesus Name. James 1:5
Remember, prayer is not a magic solution that will instantly resolve conflicts in a marriage. It takes time, effort, and willingness from both partners to work towards a resolution. Prayer can be a helpful tool to guide and support couples as they work through their conflicts.
May God bless your marriage and guide you towards love, peace, and unity. The wisdom of God is readily available to handle any conflict in marriages/relationships, as you have prayed believe that you have received and go on to manifest excellent characters as God is committed to Fulfilling His Promise of Peace in your marriage/relationship.
Recommended: 15 Powerful Prayers for Your Spouse Right Now