Unveiling the Profound Impact of War Room Prayers for Marriage Restoration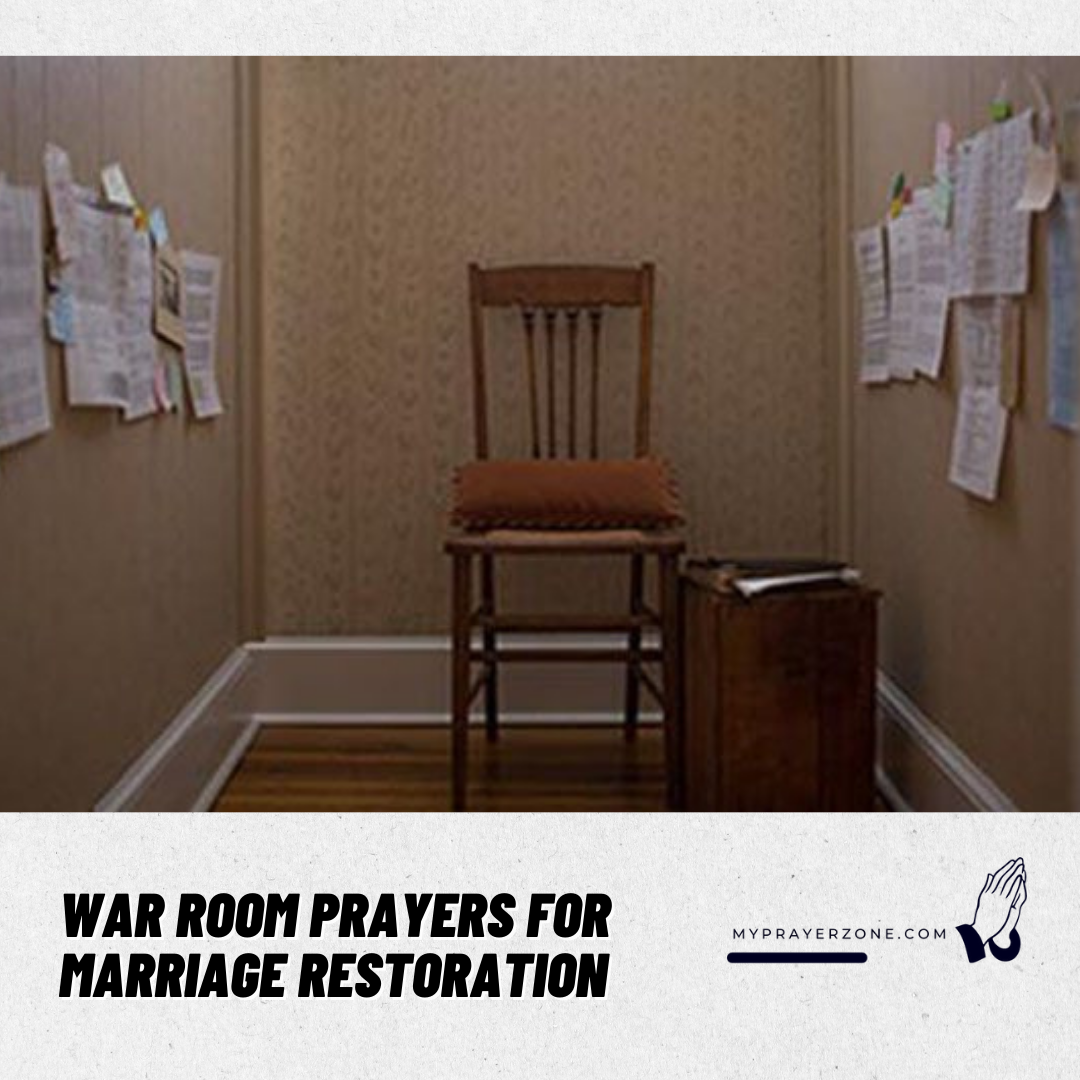 In the tapestry of marriage, woven with threads of love, trust, and shared dreams, there come times when life's trials attempt to unravel the very fabric that binds two souls together. Just as valiant soldiers prepare for their battles, couples must equip themselves with the formidable weapon of prayer to rekindle the flames of their union. Drawing inspiration from the War Room concept, we embark on a journey of rediscovery and restoration through 15 poignant prayer points, each intricately woven with personalized emotion and fortified by scripture.
Prayer for Unity: "Make every effort to keep the unity of the Spirit through the bond of peace." (Ephesians 4:3) As we stand at the crossroads, grant us the strength to mend the frayed edges of our unity. May the peace that surpasses all understanding knit our hearts together once more.
Prayer for Humility: "Humble yourselves, therefore, under God's mighty hand, that he may lift you up in due time." (1 Peter 5:6) O Lord, in the midst of our struggles, help us embrace the humility to admit our shortcomings. May our vulnerability become the cornerstone of healing.
Prayer for Communication: "Let your conversation be always full of grace, seasoned with salt, so that you may know how to answer everyone." (Colossians 4:6) Father, kindle the embers of empathy within us, guiding our words with grace and understanding. May our conversations breathe life into our connection.
Prayer for Patience: "Love is patient, love is kind." (1 Corinthians 13:4) Teach us, dear God, to mirror Your unfaltering patience. May we weather the storms of misunderstanding with kindness as our anchor.
Prayer for Forgiveness: "Bear with each other and forgive one another if any of you has a grievance against someone. Forgive as the Lord forgave you." (Colossians 3:13) In the corridors of our hearts, lead us to release the burden of resentment. Guide us towards the path of forgiveness, just as Your boundless mercy forgives us.
Prayer for Trust: "Trust in the LORD with all your heart and lean not on your own understanding." (Proverbs 3:5) Amidst the shadows of doubt, strengthen the foundation of trust we built. Help us lean on Your understanding when ours falters.
Prayer for Fidelity: "Marriage should be honored by all, and the marriage bed kept pure…" (Hebrews 13:4) Shield our love, Father, and empower us to remain steadfast. May the sanctity of our commitment radiate in our fidelity.
Prayer for Gratitude: "Give thanks in all circumstances; for this is God's will for you in Christ Jesus." (1 Thessalonians 5:18) In the silence between our struggles, awaken gratitude within us. May the fragments of appreciation weave a tapestry of blessings.
Prayer for Wisdom: "If any of you lacks wisdom, you should ask God, who gives generously to all without finding fault, and it will be given to you." (James 1:5) Amidst the crossroads, grant us wisdom to tread. Illuminate our choices with Your divine guidance.
Prayer for Intimacy: "The husband should fulfill his marital duty to his wife, and likewise the wife to her husband." (1 Corinthians 7:3) Breathe life into our intimacy, dear Lord. May the tender touch of our souls reignite the flames of passion and love.
Prayer for Healing: "Heal me, LORD, and I will be healed; save me and I will be saved, for you are the one I praise." (Jeremiah 17:14) Tender Healer, mend the wounds etched within our hearts. Let Your restoration flow through us like a soothing balm.
Prayer for Protection: "Put on the full armor of God, so that you can take your stand against the devil's schemes." (Ephesians 6:11) Cloak us with the armor of faith, O God. Guide us to stand unwavering in the face of adversity.
Prayer for Selflessness: "Do nothing out of selfish ambition or vain conceit. Rather, in humility value others above yourselves." (Philippians 2:3) Teach us the beauty of selflessness, dear Father. May we learn to put each other's needs above our own.
Prayer for Renewed Love: "I will heal their waywardness and love them freely, for my anger has turned away from them." (Hosea 14:4) Reignite the fire of love within us, Creator of hearts. Let our love be a testament to Your boundless grace and mercy.
Prayer for Covenant Renewal: "So they are no longer two, but one flesh. Therefore what God has joined together, let no one separate." (Matthew 19:6) Heavenly Father, as we kneel before You, renew our commitment. Grant us the strength to uphold the sacred bond You've blessed us with.
Within the sanctum of marriage, the symphony of prayer orchestrates miracles of renewal and transformation. Like seasoned warriors, couples step into their personal "war rooms," where these 15 prayer points, infused with intimate emotion and fortified by scripture, become the instruments of reconciliation and rebirth. Through humility, forgiveness, and the divine grace that surpasses all understanding, we stand ready to script a narrative of restoration—a testament to the sacred power of prayer in mending hearts and restoring love.