Easter Prayer Points with scriptures. As we celebrate the resurrection of Jesus Christ, let us pray that we may grow in our faith and love for Him. Let us also pray for those who do not yet know Him, that they may come to experience His love and salvation. May we all be filled with joy and hope as we remember the victory that Jesus won over sin and death.
Below are ten prayer points to say this Easter. please share with friends and family today..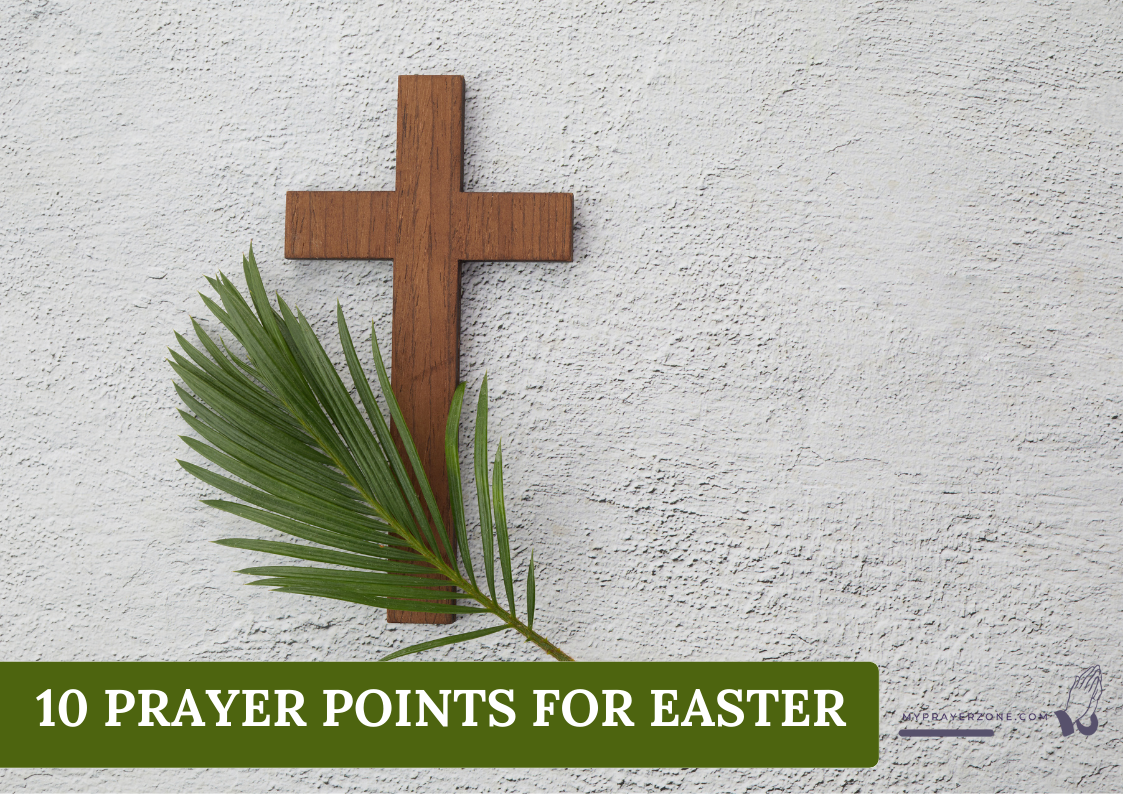 1.Thank God for the gift of His Son, Jesus Christ, who died on the cross for our sins and rose again on the third day.
"For God so loved the world that he gave his one and only Son, that whoever believes in him shall not perish but have eternal life." – John 3:16
2. Pray for a renewed understanding of the sacrifice Jesus made for us and a deeper appreciation of the love of God.
"But God demonstrates his own love for us in this: While we were still sinners, Christ died for us." – Romans 5:8
3. Ask God to forgive your sins and help you to live a life that honors Him.
"If we confess our sins, he is faithful and just and will forgive us our sins and purify us from all unrighteousness." – 1 John 1:9
4. Pray for those who are struggling with sickness, grief, loneliness, or any other challenges during this season. Ask God to comfort and strengthen them.
"Praise be to the God and Father of our Lord Jesus Christ, the Father of compassion and the God of all comfort, who comforts us in all our troubles, so that we can comfort those in any trouble with the comfort we ourselves receive from God." – 2 Corinthians 1:3-4
5. Thank God for the hope we have in Christ and ask Him to help you to share this hope with others.
"But in your hearts revere Christ as Lord. Always be prepared to give an answer to everyone who asks you to give the reason for the hope that you have. But do this with gentleness and respect." – 1 Peter 3:15
6. Pray for peace in our world, that people may turn to God and seek His guidance in all things.
"Do not be anxious about anything, but in every situation, by prayer and petition, with thanksgiving, present your requests to God. And the peace of God, which transcends all understanding, will guard your hearts and your minds in Christ Jesus." – Philippians 4:6-7
7. Ask God to give you a heart of gratitude and to help you to see the blessings in your life.
"Give thanks to the Lord, for he is good; his love endures forever." – Psalm 107:1
8. Pray for the leaders of our world, that they may seek God's wisdom and guidance in their decisions.
"I urge, then, first of all, that petitions, prayers, intercession and thanksgiving be made for all people— for kings and all those in authority, that we may live peaceful and quiet lives in all godliness and holiness." – 1 Timothy 2:1-2
9. Ask God to help you to love and serve others as Christ did.
"For even the Son of Man did not come to be served, but to serve, and to give his life as a ransom for many." – Mark 10:45
10. Pray for the Church, that we may be a light in the darkness and a source of hope and healing to those in need.
"You are the light of the world. A town built on a hill cannot be hidden. Neither do people light a lamp and put it under a bowl. Instead they put it on its stand, and it gives light to everyone in the house. In the same way, let your light shine before others, that they may see your good deeds and glorify your Father in heaven." – Matthew 5:14-16
Easter is a time of reflection and renewal, a time to celebrate the resurrection of Jesus Christ. Through these prayers, we hope that you will deepen your connection to God and find inspiration for your faith. May you be blessed with love, hope, and joy this Easter season. Amen.